St. Mary's County, Maryland Real Estate
St. Mary's County, Maryland Real Estate
Located in Southern Maryland and bordered by the Chesapeake Bay, and the Patuxent, Potomac, and Wicomico rivers, St. Mary's County real estate enjoys great scenery, a rich history, and the vibrant legacy of pioneering, which is evident by the fact that it was the first county to be established in Maryland.
Since its establishment in 1637, the St. Mary's County real estate area has thrived and continues to grow, with its total population now just over 105,000. Yet, even as it grows, St. Mary's County maintains a strong sense of community and desire for spaciousness, with even its biggest cities, Lexington Park and California, boasting populations of less than 12,000. Come see the region that inspired Francis Scott Key, author of "The Star Spangled Banner," who grew up in St. Mary's County, and it's likely that you, too, will want to call St. Mary's County home.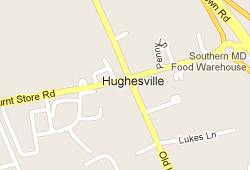 Hughesville, Maryland
Real Estate
Shopping and Dining
St. Mary's County has all the amenities you would expect from major metropolitan regions, including department stores and national chains. For something more "home-grown," stroll the streets of historic Leonardtown during First Friday, and get to know the owners and wares of local small businesses, enjoy the work of local artists, listen to street musicians, eat good food from neighborhood restaurants, and even receive complimentary wine. St. Mary's County is home to a cornucopia of restaurants serving all kinds of cuisine, including Mexican, Italian, Chinese, Indian, and All-American barbecue.
Parks and Recreation
Located in the scenic Chesapeake Bay area, St. Mary's County is certainly not in short supply of opportunities to enjoy this unique and gorgeous region, whether you are into hiking, biking, kayaking, horseback riding, golfing, sailing, fishing, or camping. There are over twenty parks in the county, with amenities such as playgrounds, disk golf courses, horseshoe pits, soccer and baseball fields, lighted tennis and basketball courts, picnic areas, and plenty of open spaces for bird and wildlife viewing.
The Three Notch Trail, currently under development, is an exciting addition to the St. Mary's County parks and recreation family. It follows old railroad tracks from Hughesville to Lexington Park, and provides residents with a paved 5.6 mile route, perfect for walking or biking. In addition to providing ample opportunities and facilities for the enjoyment of the great outdoors, St. Mary's County also offers numerous leisure programs, such as pottery and dog obedience classes, which help keep residents of all ages, abilities and interests active.
Living
St. Mary's County is a region rich with industry and technology, providing a diverse range of steady employment to its residents, which in turn creates stability in the county's economy. The major employers of the county reflect the spirit of research and innovation so deeply rooted in this area. The largest employer in the county is the Naval Air Station on the Patuxent River, which employs nearly 11,000 people, not including private contractors. Other major employers include DynCorp International, St. Mary's Hospital, Walmart, General Dynamics, and Burch Oil. St. Mary's County businesses enjoy the benefits of zero corporate income taxes and tax incentives for creating jobs.
This strength in business and industry is one of the many reasons that St. Mary's County real estate is in such high demand. But St. Mary's County is much more than a great place to work. With numerous festivals and events, such as the County Fair, Crab Festival, River Concert Series, and National Oyster Shucking Championships, St. Mary's County is a great place to play and let loose as well. Add to this the beauty of the region, which is flanked on most sides by water, as well as the county's vibrant community-feel, and it's easy to see why buying a home in St. Mary's County means you won't be giving up anything in your pursuit for the perfect place to live.
Schools, Health, Transportation
In addition to a number of prestigious and religiously affiliated private schools, St. Mary's County is served by St. Mary's County Public Schools (SMCPS), one of the highest performing school systems in the entire state of Maryland. This past year, SMCPS produced the highest scores in the state for Adequate Yearly Progress (AYP), with a rating of 98.95, a rating that far exceeds the national average. Serving over 17,000 students in its eighteen elementary schools, five middle schools, and five high schools, SMCPS distinguishes itself with celebrated honors programs, such as the Academy of Finance and Academy of Global and International Studies. St. Mary's College and the College of Southern Maryland are also located in St. Mary's County.
St. Mary's Hospital provides residents with unparalleled care, receiving prestigious awards, such as the Chamber Lighthouse Award, Workplace Excellence Award, and the National Marketing Honor. As a member of MedStar Health, the largest health care provider in Maryland, patients at St. Mary's Hospital benefit from a wide pool of knowledge and professionalism, no matter what their medical needs.
St. Mary's Transit System provides buses to all parts of the county, connecting folks in even the most rural communities. St. Mary's County is in a prime location for local and cross-county commuting. Major highways, including MD-5, MD-247, MD-237, and MD-244, make St. Mary's County easily accessible to larger neighboring cities. The county is merely 54 miles from Washington D.C., 81 miles from Baltimore, and 94 miles from Richmond, Virginia.
If you are thinking about buying or selling a home, give us a call at (301) 870-1717 or send us an email to explore your options and to find out when is the best time for you to make a move.