Hughesville, Maryland Real Estate
Hughesville, Maryland Real Estate
Hughesville real estate is located an hour south of Washington DC. This quaint and friendly town, which boasts a comfortably small population, has just under 2,000 residents. If simplicity, peace and quiet, neighborly values, and close, but not too close, proximity to urban centers are your ideal ingredients for the perfect place to live, then consider Hughesville real estate for your next home.
Situated near the Potomac and Patuxent rivers, close to many historic sites and exciting attractions, and part of vibrant Charles County, Hughesville is a great place to live, whether you are raising a family, relocating for work, or looking for a place where you can simply relax and enjoy life.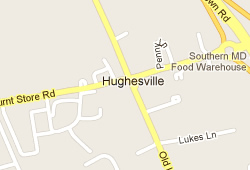 Hughesville, Maryland
Real Estate
Shopping and Dining
Whether looking for antiques, upscale women's clothing, or household necessities buying a home in Hughesville means living simply without giving up the essentials. If you can't find it in Hughesville, you will certainly be able to find it in nearby Charlotte Hall, Patuxent, or Masons, each within a ten minute drive via MD-5 or MD-231. Whatever your taste buds crave, Hughseville and surrounding communities will not disappoint. Hughesville's biggest claim to culinary fame is Randy's Ribs and Barbecue, a definite must for barbecue enthusiasts.
Parks and Recreation
With its close proximity to the Patuxent and Potomac rivers, great fishing, boating and sailing abound for Hughesville residents. The Three Notch Trail, now mostly complete, is a new paved biking and walking trail that follows old railroad tracks beginning in Hughesville and ending in Lexington Park five and a half miles away. Canoeing and kayaking enthusiasts will jump at the opportunity to paddle the Patuxent Water Trail, which allows paddlers to guide themselves down the Patuxent River, taking in its wooded and grassy shorelines, with ample opportunities to stop and camp along its banks or visit historic sites and wildlife refuges along the way.
Living
Perhaps the biggest draw to buying a home in Hughesville is the sense of community and simplicity with which folks live their lives. Hughesville is definitely the kind of place where you will get to know your neighbors. At the same time, Hughesville residents have ample opportunity to commune with this region's vibrant and significant past. Truman's Place, one of the oldest, original brick homes left in the region, is located in Hughesville. It is listed in the National Register of Historic Places, and is a point of pride for many history buffs in Hughesville. The nearby Bryantown Historic District, located just ten minutes northwest of Hughesville, offers visitors the chance to stroll down its streets, exploring buildings that exhibit the Victorian Carpenter Gothic and Federal designs of the late nineteenth century. Of course, Hughesville is certainly not stuck in the past. Hughesville residents are also invested in the future of this already thriving community. This is evident by the Hughesville Village, an online blog where residents keep each other posted about local news, events and civic issues.
Schools, Health, Transportation
Students in Hughesville attend T.C. Martin Elementary in Bryantown, and John Hansen Middle School and North Point High School in Waldorf. These schools are part of the Charles County Public Schools System, one of the fastest growing school systems in Maryland.
The nearest hospital is Civista Medical Center in La Plata, twenty minutes away. Civista has recently ranked in the top-ten for best quality hospitals in Maryland. The medical services they provide include emergency care, oncology, joint replacement, and stroke care.
Located at the nexus of MD-5 traveling north and south, and MD-231 traveling east and west, Hughesville residents have quick and easy access to other major highways and destinations in Maryland and neighboring states. A recently constructed highway bypass, which diverts rush hour traffic around town rather than through it, has greatly decreased the length of the daily commute in Hughesville. Reagan National Airport is 37 miles away, while Dulles International Airport is located sixty-five miles northwest of Hughesville.
If you are thinking about buying or selling a home, give us a call at (301) 870-1717 or send us an email to explore your options and to find out when is the best time for you to make a move.