Swan Point real estate and homes for sale
Swan Point, Maryland Real Estate
Located at the tip of a peninsula flanked by the Potomac River and Cuckold Creek, Swan Point real estate is one of the most desirable places to call home in Charles County. What began as a single, prestigious housing development built around a world-class golf course in the 1980's, has since become home to residents seeking a quiet, scenic and luxurious retreat from the mainland's hassles. Whether you are seeking to buy a home in Swan Point or rent, you will certainly enjoy a higher quality of life while you're here.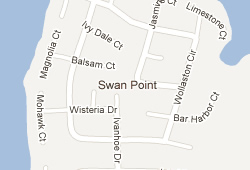 Swan Point, Maryland
Real Estate
Shopping and Dining
Swan Point homes for sale are located in a seafood lover's paradise, with nearby restaurants like the Lighthouse Restaurant and Lounge. Located just across the Potomac in Colonial Beach, this fine dining restaurant has views of the stunning Monroe Bay. Of course, there is more than just great crab and rockfish to eat in the Swan Point real estate area. You don't have to go far to find quality cuisine of just about every nationality. Cruising the quaint streets of Colonial Beach might land you some great antiques and gifts, while the town of Issue, which is further inland on Swan Point's peninsula, is a great place to go for brand name stores.
Parks and Recreation
With the Potomac lapping at its shores and ideal weather for outdoor activities year round, Swan Point is an outdoor enthusiast's paradise. Canoeing, biking, horseback riding, and camping are just some of the activities enjoyed by Swan Point residents. Of course, you can't mention Swan Point without mentioning the Swan Point Yacht and Country Club, one of the most talked-about clubs in the country, designed by master golf course architect Bob Cupp. Those with year-round memberships or single-day memberships have access to some of the greatest golf around. In fact, for four years in a row the Swan Point Golf Course has been named one of the top-ten golf courses in Maryland, by Golf Digest. Additionally, it has received the number one spot for public courses within an hour of Washington DC. More than just 18 holes of unparalleled golf, Swan Point Yacht and Country Club also has a marina, golf shop, and clubhouse, complete with fine dining.
Living
By relocating to Swan Point, whether for good or just for the summer, you will be welcomed into a community that values respect for neighbors, the natural bounty of the region, and its historic significance, which is evident by the many historic sites in the area. The George Washington Birthplace National Monument, for instance, is located in nearby Colonial Beach. With a population of just over 700, Swan Point has remained a small town with a commitment to maintaining the privacy and seclusion that attracted those first developers in the 1980's.
Schools, Health, Transportation
Children in Swan Point attend Dr. Thomas L. Higdon Elementary School and Piccowaxen Middle School in Newburg, and La Plata High School in La Plata. These schools are all part of the Charles County Public Schools System, and school bus transportation is available.
The nearest medical center is Civista Medical Center in La Plata, a half hour drive away. Civista has recently been approved to become a member of the University of Maryland Medical System (UMMS), which means it will be able provide essential services even better, services such as emergency care, joint replacement, and oncology. It has also been designated as the primary stroke center in the region.
Swan Point is an ideal location for both its seclusion and accessibility. Connecting with MD-257 is easy via Swan Point Blvd., the main road in town. From MD-257 residents have easy access to other major highways and destinations throughout Maryland and neighboring states. Washington D.C. and Baltimore are both less than two hours from Swan Point.
If you are thinking about buying or selling a home, give us a call at (301) 870-1717 or send us an email to explore your options and to find out when is the best time for you to make a move.