Maryland Restaurant Review - Casey Jones
Southern Maryland Restaurant Reviews - Casey Jones
Casey Jones, The Best of Both Worlds
By Don DeHanas
After a long, hard day at work, many families find dining-out fits into their schedule much better than cooking-in. I'm of the same mindset, in fact, one of my favorite recipes is "reservations". My family dines-out four or five times a week, and some of our favorite restaurants, tend to be off the beaten path. I'll always try a new restaurant, but if the atmosphere, food and service are all great, I'll go back again and again.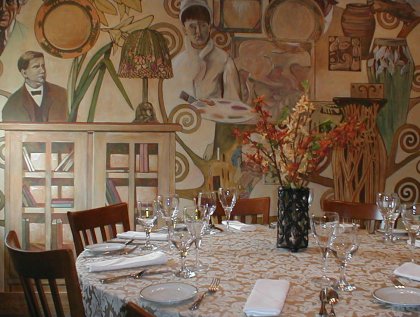 I know I'll never be able to find a seat in one of my local favorite's again, but here goes; Located in the heart of La Plata on Charles Street you'll find an unusual mix of elegant fine dining, and Irish pub with a hint of Southern Maryland, all under one roof. Formally known as The Crossings at Casey Jones, the locals just call it Casey's. Restaurantures, Paul and Lisa Bales have put together one award-winning combination. One side features full-service, fine dining, in an elegant low lit dining room divided into several sections, including a separate dining room for larger groups, and a view of the open kitchen. There's also a non-smoking wine bar with a wine selection you won't find anywhere else in Southern Maryland. The menu features a variety of selections prepared by award winning chef, Gary. Some of my personal favorites include the Prime Rib, the Alaskan Salmon and the Portobello Napoleon with the toasted Isreali cous cous in a spinach cream sauce. Each plate is a work of art; you have to see to enjoy. For dessert, the Chocolate cheesecake is out of this world, and the Creme Brule is equally outstanding. For a more casual experience, try the pub. There's entertainment, various nights throughout the week as well as a gourmet pizza night on Thursdays. There is a separate bar menu with a gourmet flair, and the dinner menu is also available.
In my book, a fine dining experience is only as good as it's weakest link. At Casey Jones there are no weak links, and that includes the service. I found the servers to be very attentive, not just meeting, but exceeding my expectations. Casey's is one I'll be back to again and again.