La Plata, Maryland Real Estate and Community Info.
La Plata, Maryland Real Estate and Community Info.
La Plata, Maryland


The affluent town of La Plata is the county seat of beautiful Charles County in southern Maryland. Incorporated in 1888, La Plata is now home to approximately 9,500 people. Thanks in part to its recent reconstruction and rapid growth, the community is currently experiencing a transformation from a primarily residential community into a bustling center for business and commerce. Located just a mere 30 miles southeast of Washington, D.C. and 60 miles south of Baltimore, La Plata real estate is always in demand.
Shopping and Dining
Charles County is known as the "Shopping Capital of Southern Maryland," and a tour through La Plata's mall, shops, and town centers makes it easy to see why. La Plata and its three main shopping centers, the Potomac Square Shopping Center, the Hawthorne Shopping Center, and the La Plata Shopping Center, are home to a variety of local and nationwide stores, including: Hugh Bug Children's Boutique, Wawa Food Markets, Target, Radio Shack, and more. Tucked along the small town's charming neighborhood streets are a number of unique, boutique restaurants, such as Ouzo's Greek and Regional Cuisine. Described as a "hidden treasure in Southern Maryland" by reviewers, Casey Jones Restaurant features an extensive wine list, gourmet pizzas, and traditional American fare.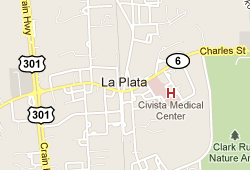 La Plata, Maryland
Real Estate
Parks and Recreation
La Plata is home to a number of wonderful parks and recreation facilities, including the Clark Run Nature Area, Silver Linden Park, Tilghman Park, and Wills Memorial Park. Area residents also have access to the East Coast's premier recreational facility, Capital Clubhouse, located in nearby Waldorf. With year-round hockey, ice skating, soccer, volleyball, baseball, cheerleading, rock climbing, and more, it's well worth the trip.
Living
Living in La Plata means small town charm just minutes from the nation's capital. Plentiful community events, such as the free Summer Concert Series offered every Friday night on the lawn of La Plata Town Hall, make it easy to get to know neighbors and area residents. Low population density (1287 people per square mile) and relatively low unemployment make La Plata a great place to call home. Median home value in 2009 was $348,075.
Schools, Health, Transportation
Charles County Public Schools system operates two elementary schools, one middle school, and one high school in the town. There are also several private schools in La Plata, including the High Road School of Southern Maryland, the Archbishop Neale School, and the Grace Lutheran School. The La Plata Campus of the College of Southern Maryland features an online learning center, a state-of-the-art conference center, high-tech computer labs, and a fine arts center with a 400-seat theater. The Civista Medical Center provides area residents with emergency care services. Additional medical care is available at the Southern Maryland Hospital Center in nearby Clinton or the Inova Mount Vernon Hospital in Alexandria, VA, just 17 miles away. The average commute from La Plata into Washington D.C. is approximately 39 minutes.
If you are thinking about buying or selling a home, give us a call at (301) 870-1717
(301) 870-1717 or send us an email to explore your options and to find out when is the best time for you to make a move.