Waldorf, Maryland Real Estate and Community Info.
Waldorf, Maryland Real Estate and Community Info.
Waldorf, Maryland


An unincorporated community in beautiful Charles County, Waldorf was originally named "Beantown." A rural town with a train station, it quickly became tied to the tobacco market, and was renamed "Waldorf" in 1880. In the 1950s and 1960s, the community became renowned as a hip gambling destination. Now, though it is surrounded by farmland, Waldorf is primarily a rapidly developing bedroom community for D.C. commuters. Great shopping, solid growth, and easy access to Washington D.C. makes Waldorf, MD a great place to call home.
Shopping and Dining
Waldorf is home to the largest shopping mall in Southern Maryland, the St. Charles Towne Center Mall. Featuring nationwide favorites such as Macy's, Kohl's, Sears among others, the two-story shopping center provides the community of Waldorf with clothes, gifts, food, and fun. Looking for a new car? Visit the "Waldorf Motor Mile," a strip of car dealerships situated along U.S. Route 301. Love Sushi? Visitors and residents alike can't get enough of Kodori Japanese Restaurant. Prefer a childhood favorite? Whether you're in the mood for Chili's, the Outback Steakhouse, or Olive Garden, you'll likely find the meal you're craving along Crain Highway.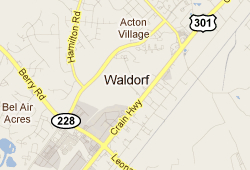 Waldorf, Maryland
Real Estate
Parks and Recreation
Waldorf features a number of indoor and outdoor activities for residents of all ages. Children love Elite Gymnastics, located in the heart of Waldorf, where they can take gymnastics and tumbling classes. Little leaguers and big leaguers alike can get playtime at the Robert D. Stetham Memorial Sports Complex, which includes ten baseball fields, one football practice area, a children's playground, and a picnic pavilion. Area residents also have access to North Point High School's twelve tennis courts, and two community pools, North Point Indoor Pool and Thomas Stone High School Pool. And, don't forget to catch one of the Southern Maryland Blue Crabs' home games at the Regency Furniture Stadium in Waldorf!
Living
Living in Waldorf means great shopping, quality neighborhoods, and convenient access to Washington D.C. Primarily a residential, suburban community, Waldorf features low unemployment rates and low teacher-to-student ratios coupled with increasing opportunities for long-term growth. Median house value in 2009 was $336,652.
Schools, Health, Transportation
The children of Waldorf are served by the Charles County Public Schools system, which operates 12 elementary schools, four middle schools, and three high schools in the community. North Point High School, opened in 2005, has garnered glowing reviews for its advanced technology and science programs. Together, the College of Southern Maryland and the University of Maryland University College operate the Waldorf Center for Higher Education, which offers degrees in accounting, computer programming, information services technology, and more. Located just 23 miles south-southeast of Washington, D.C., Waldorf is an ideal community for daily commuters. Residents who prefer not to drive into the city can catch a ride into downtown D.C. on one of four commuter routes offered by MTA Maryland.
If you are thinking about buying or selling a home, give us a call at (301) 870-1717 or send us an email to explore your options and to find out when is the best time for you to make a move.