Maryland Restaurant Review - Ouzo's
Southern Maryland Restaurant Review - Ouzo's
Ouzo's
Greek and Regional Cuisine
There's something pretty special about a family owned restaurant especially when it's goal is to provide some new traditions and flavors to our dining experience. Ouzo's, Inc., a fairly new restaurant located next to Walmart in LaPlata, brings a whole new world to your table. Owner, Asimina Gressis' love of her heritage is reflected in her restaurant and her food.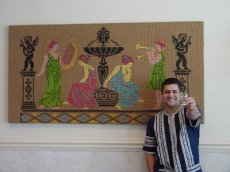 Ouzo's menu features Greek dishes that most of us have heard of and tried. Rather than attempting to offer a huge variety of dishes, they focus on serving their patrons a selection of deliciously prepared favorites. The appetizer menu features; Spanakopita, a spinach pie, Tiropita, which is an assortment of cheeses baked in a filo dough, Dolmades, stuffed grape leaves and Tzatziki, the traditional cucumber and yogurt dip that is used in many other dishes.
The lunch and dinner menus are similar and contain the very popular Gyro Wrap, Souvlaki Meat on a Stick, Shrimp Kabobs and Souvlaki Chicken and Pork Wraps. They offer a nice selection of salads including the Authentic Horiatiki, the Greek Village Salad. Their soups are prepared fresh daily as well as their homemade deserts. Something unique that Ouzo's offers is a menu item called "The Tour of Ouzo's". This consists of salad, appetizers, entrees and desserts served family style for parties of four or more.
A full bar selection is available as well as a rarely seen wine list that features wine by the carafe. Looking for some new night life? Drop in on one of their Bouzouki Nights, featuring live music. Ouzo's, Inc. provides delicious food, a great atmosphere, and is all about family and fun. Check out their website for menus and Bouzouki Night dates. www.ouzos.com
Ouzo's, Inc.
68 Drury Drive
LaPlata, MD 20646
301-392-9500