Southern Maryland Restaurant Review - The Chart House
Southern Maryland Restaurant Review - The Chart House
Chart House
Annapolis
by Don DeHanas
A large group of DeHanas Team members recently dined at the Annapolis Chart House to celebrate Donna DeHanas' thirty-ninth birthday, again. What a beautiful spot for a celebration! Chart House is located within walking distance of historic downtown Annapolis and boasts a beautiful view of Spa Creek which opens up to the Chesapeake Bay.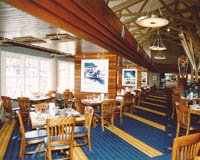 Since first opening it's doors in Aspen in 1961, Chart House has expanded to over 40 locations across the Continental United States. The food is consistently spectacular and the atmosphere casual, friendly and inviting. It's easy to see why this restaurant chain, which started out as a 14-table converted diner with charts on the tables, enjoys continued success.
The menu at Chart House is an exciting array of seafood, fresh fish, beef and chicken dishes, salads and desserts. The Annapolis location also has an enormous salad bar that is a meal in itself. Some of the most popular dishes include, Seared Peppered Ahi Tuna, Sesame Crusted Salmon, Teriyaki Beef Medallions, Filet Mignon au Poivre, and Slow Roasted Prime Rib. To top it off there's Chart House's signature Chocolate Lava Cake, a dessert souffle` of volcanic proportions, served warm at your table. The beauty of this dessert is that you get to order it before you eat as it takes 30 minutes to prepare.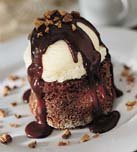 Our experience at Chart House was a memorable one. The staff is courteous and professional and has a knack for making you feel at home. The atmosphere seems to draw on our areas water-oriented features, from the setting and architecture to the relaxed style. Chart House, a national chain, manages to come across uniquely local.
Chart House
300 Second St.
Annapolis, MD
410-268-7166