Maryland Golf Courses
Maryland Golf Courses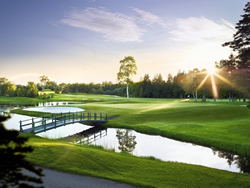 Rather than try to write about every one of the numerous Maryland golf courses here, we'll focus on two of the state's counties, St. Mary's and Charles, which are located in the southeastern section of the state.
Although Maryland may not come to mind for many when thinking of the United States' elite golfing destinations, at least when compared with year-round warm weather locations, such as Hawaii, California and Arizona, but the state is blessed with many terrific locations for golf. But for professionals, amateurs, enthusiasts and weekend hackers, Maryland sports a surprising number of marvelous courses.
Maryland golf courses come complete with two of the main ingredients that are very hard or even impossible to replicate: geography and climate. The season here is actually longer than some might realize.
Geography
Maryland is the nation's ninth smallest state in terms of geography. However, within the state's approximately 12,407 square miles, you can experience an amazing array of topography, perfect for golfers who like to challenge themselves by tackling many different types of terrain. Sand dunes sprouting seagrass make up much of Maryland's eastern quadrant; wetland marshes alive with myriad flora and fauna are what you'll find near Chesapeake Bay; and mountains carpeted by evergreen trees can be explored in Maryland's western region.
Climate
The weather in Maryland is as wide-ranging and variable as the state's eclectic countryside. St. Mary's and Charles counties, like much of the rest of the state, is considered to be part of either a subtropical climate or a subtropical highland zone, meaning snow and chilly temps in the winter, and hot, humid temps with about 35-45 inches of rain on average in the summertime. Altogether, the climate conditions are excellent for nursing all of the lush fairways and lovingly groomed greens of Maryland golf courses.
Charles County, Maryland, Golf Courses
Charles County sits in the southern arm of Maryland on the western side of Chesapeake Bay. With a total population of a little more than 146,000 people, and no major cities, Charles County is made up primarily of protected state forests, natural areas and regional parks. It's an idyllic setting for a serene round of golf at one of its beautiful courses, like these three:
Swan Point Yacht & Country Club
Swan Point Yacht & Country Club offers golfers 18-holes of exquisite golf on the banks of the Potomac River designed by course architect Bob Cupp. Swan Point also boasts a clubhouse, marina on near the 16th hole and a Yacht Club.
Call Swan Point at (301) 259-0047.
White Plains Golf Course
Located at 1015 St. Charles Parkway in the charming small town of White Plains, Maryland, the White Plains Regional Park & Golf Course is an 18-hole, par 70 course, seeded with Bermuda grass and sporting lovingly manicured greens. Some of the amenities you will find here include a professionally staffed pro shop, outings and tournament play opportunities, and a snack bar and grill.
For registration and other information, contact the White Plains Golf Course at (301) 645-1300.
Hawthorne Country Club
Hawthorne Country Club offers a private, 18-hole golf course with bent grass greens and Bermuda grass fairways. Membership in the La Plata, Maryland, club also gives you access to a swimming pool, lighted tennis courts and Cindy's at Hawthorne Country Club restaurant and bar.
For membership details and other pertinent information, call Pat Terpak at (301) 934-8422, extension 2 or Christy Dickerson at extension 3.
Potomac Ridge Golf Links
Potomac Ridge Golf Links in Waldorf, Maryland, is actually three 9-hole golf courses wrapped into one neat little package. The Meadows, Hollow and Ridge courses offer approximately 3,300 yards of mostly par-3-hole action.
Call the Potomac Ridge's Golf Shop at (301) 372-1305 to reserve your tee time.
St. Mary's County, Maryland Golf Courses
The coastal Maryland county of St. Mary's is almost completely surrounded by water, with the Patuxent River, Chesapeake Bay and Potomac River carving out the St. Mary's Peninsula. Nestled among the forests, waterways and charming small towns of St. Mary's County, you will discover these two beautiful golf courses:
Wicomico Golf Course
This county-owned and operated 18-hole golf course offers a challenging, nearly 7,000-yard, par-72 course in a scenic, wooded and serene setting. Group and individual play can be arranged. Join in on some league play, regardless of your skill level.
For more detailed information contact Wicomico at (301) 884-4601.
Breton Bay Golf and Country Club
Breton Bay Golf and Country Club is a semi-private, member-owned club. Its amenities include an 18-hole golf course, tennis courts and the Club House/Ironwood Grill. The public has access to green fee play and annual memberships. Check out their website by clicking here for more information.
If you are thinking about buying or selling a home, give us a call at (301) 870-1717 or send us an email to explore your options and to find out when is the best time for you to make a move.