Waterfront Dining in Southern Maryland
Waterfront Dining in Southern Maryland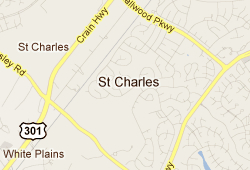 Southern Maryland
Real Estate
Waterfront dining in Southern Maryland is an experience unlike any other. Perhaps most famous for its phenomenal crab and oysters, Southern Maryland's restaurants feature a wide variety of cuisines. Whether you choose to dine right on the historic Chesapeake Bay or on one of the rivers feeding into it—such as South River, Severn River and Magothy River—Southern Maryland's waterfront eateries have a one-of-a-kind nautical ambience. From the gentle slap of water against the boats docked at the piers, to the colorful sailboats gliding by, the sights and sounds of Southern Maryland's waterways turn excellent meals into memorable experiences.
The following are just a few local favorites that you can easily access either by car or by boat, as most of these restaurants are located near marinas:
Sam's on the Waterfront sits right on the Chesapeake Harbor in Annapolis. With mouthwatering selections of traditional seafood and entrées inspired by international cuisine, it's no wonder that Sam's on the Waterfront was recently selected as a Diner's Choice winner by OpenTable.com. Signature dishes include Lobster Mac 'N Cheese, Shrimp Taglitelli and Burnt Chili Sugar Filet Minon. For dessert, be sure to try the Orange Crème Brule or the Flambeed Bananas.
Cantler's Riverside Inn, located on Forest Beach Road in Annapolis, is famous for their steamed hard-shell crabs, which are always fresh and succulent. In addition to crab, Cantler's serves a variety of delectable seafood entrees, including clam strips, blackened rockfish, and crab cake sliders. For desert, try their homemade key lime pie.
Middleton Tavern, one of the oldest operating taverns in the United States, is truly an example of traditional seafood and spirits. Whether you order their Maryland crab cakes, oyster shooters, clams or rockfish, you are sure to be pleased with the quality and expert preparation. Find Middleton right on the City Dock of Annapolis.
Located in the famed Eastport section of Annapolis, the Chart House offers great views of the U.S. Naval Academy, the State Capital and the watercraft trolling in and out of the harbor. Best known for its premier seafood and steaks, the Chart House is also a prime destination for fine wines and whiskeys. Make sure to try the famously decadent Hot Chocolate Lava Cake for desert.
Mike's Restaurant & Crab House, located on the South River just outside Annapolis, has been in operation for over fifty years and has earned the right to brag about its crab. Bay Weekly's Best of the Bay contest recently named Mike's the Best Crab House, Best Crab Cake and Best Crab Soup – a seafood trifecta!
At Carrol's Creek Restaurant—located right on Annapolis' City Marina—you can enjoy signature dishes like Salmon Mediterranean, Cioppino, and Caramelized Pear Salad, while you watch the sailboats glide in and out of the marina. Within walking distance from downtown Annapolis, Carrol's is the perfect place to unwind after a long day of strolling from shop to shop. Be sure to make it for happy hour, served weekdays from 4 p.m. to 7 p.m., and Sundays from 5 p.m. to 8:30 p.m.
Located right on Annapolis' waterfront, Pusser's Caribbean Grille provides a lively atmosphere and island-inspired cuisine. Favorite dishes include Caribbean Blackened Mahi Mahi, Coconut Rum Shrimp, and Curried Chicken Sate. In addition to great food, Pusser's has a number of signature cocktails, like the Lava Flow, Gombay Smash and Jamaican Me Crazy.
Located on the eastern shore of Chesapeake Bay, Kentmorr serves seafood, pizza, and outstanding steaks—all with a friendly smile and classy yet casual ambience. For those looking for items on the lighter side, Kentmorr has a number of "small plates" to choose from—such as the Crab Pretzel, Calamari, and Kentmorr Crab Mole. Just make sure to leave room for their famous crab cakes!
Severn Inn is the epitome of class and quality when it comes to fresh seafood in southern Maryland. Serving a wide variety of fish—including Atlantic Swordfish, Ecuadorian Mahi and Maryland Oysters—eating at Severn is truly a global journey for your taste buds. Located next to the Naval Academy Bridge, you will be hard-pressed to find better views of the Severn River.
Fifteen minutes from downtown Annapolis and a bit off the beaten path, Deep Creek Restaurant and Marina is truly a hidden gem. Located on the banks of the lazy Magothy River, Deep Creek has a distinctly casual vibe, with friendly service to match. The menu is full of creative creations such as Crab Imperial Stuffed Mushroom Caps, Deep Creek Clams Casino, and Thai-inspired Boom Boom Shrimp. With slip rentals and overnight docking available in the marina, you can make Deep Creek Restaurant your next boating destination!
If you are thinking about buying or selling a home, give us a call at (301) 870-1717 or send us an email to explore your options and to find out when is the best time for you to make a move.