Tuesday, December 22, 2015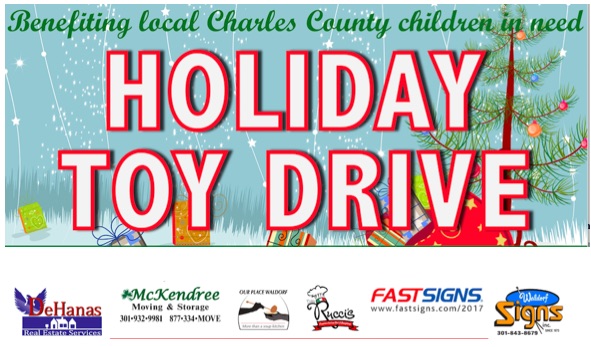 Power of Community
This year, I decided I wanted to hold a Toy Drive with all donations going to local Charles County children that may not have much or a Christmas at all. Because of my relationship and involvement with the local soup kitchen, Our Place Waldorf, I reached out Deanna Gerhart and told her of my idea and I asked her if I could surprise the children that attend the dinners on Thursday nights at Good Shepherd Church for Christmas, she happily agreed. And the story began ….
In my vision, I saw "Santa" walking into the church with a big bag of toys while watching the eyes of the children light up. I then asked around to see if anyone had a Santa suit that we could borrow and Deanna said she not only had one but that another wonderful supporter of Our Place Waldorf, Mike agreed to be Santa.
I then reached out to my broker, Don DeHanas and asked if he would allow me to place a toy donation box at our real estate office in Waldorf, again he happily agreed. He also said that I could print as many signs as needed using the office printer. That alone is a HUGE donation and saved me a lot of money.
My next step was to find large sturdy boxes to transform into Toy Drive donation boxes. I reached out to Matt McKendree, the owner of McKendree Moving & Storage to see if he would donate 4-6 boxes for the event. The answer I received was not only a yes to the boxes (and as many as I need) but also an offer to be another Toy Drive drop off location. Joan at his office was amazingly helpful and happy to be a part of this event.
I then contacted my wonderful, supportive, very pregnant daughter-in-law Liz Mildenstein who not only gives her time whenever asked but is also a very talented designer of print materials if she would help design the signs, again another yes. She also volunteered to place a Toy Drive donation box at her office, AVIAN, LLC in Lexington Park and did.
The neighborhood I live in, Greenmont which is Waldorf is filled with very giving, generous families that consistently support Our Place Waldorf making food donations to our home so that we can take it to Our Place Waldorf on Thursday nights. I created flyers and took them house to house asking for their support by making toy donations to us at our home and as expected, they were very generous. We even had neighbors, Mike & Melody Coates that we never met before bring bags and bags of toys then showed up the following week with a lot of food and a commitment to start bringing monthly food donations. Power of Community!
Since I was getting so much positive support, I decided to contact Sid Rahai, the owner of Avant Garde Carpet One Floor & Home located in Waldorf to see if he would mind being another drop off location and again, it was a YES! Sid is a wonderful, caring man that we have had the pleasure of knowing for many years!
Once the signs were finalized, I reached out to a few local printers to see if anyone was willing to donate a very large sign to place in the front glass of our office at DeHanas Real Estate Services. I quickly received a response from Cindy, the owner of Waldorf Signs and she said she would be happy to make and donate the sign. She had it ready in just a matter of days and I could not have been more thankful! She and her husband were so gracious!
Things just kept falling into place. Although I had established 5 great Toy Drive drop off locations, I still had the nagging worry that I would not collect enough toys for each child at Good Shepherd Methodist Church. Once again, I asked Deanna Gerhart along with many others if they could think of another local business that may be willing to be a drop off location. Deanna told me I should contact Eric Kriemelmeyer, the owner of FASTSIGNS of Waldorf, as he has been a huge supporter of Our Place Waldorf. I sent him an email asking if he would mind me putting up a Toy Drive box at his store which is right on Rt. 301 in Waldorf. The response I received was shocking. He not only happily agreed but offered to print yard signs for each of my drop off locations, put the sign up on his LED marque which faces Rt. 301 and to extend an offer of 10% off all printing for each of my sponsors. I was and still am overwhelmed by his generosity.
About two weeks before the deadline of December 15th, my broker Don DeHanas held a holiday party and when guests asked what they could bring, he said "a toy". Well, apparently Don knows a lot of people because the following Monday, he and his partner David Strickland brought a truckload of toys for the Toy Drive, all donations of his party guests. I was overwhelmed and honestly, still am.
The last but not least drop off location came to me because of my wonderful friend and co-worker David Strickland. He works part time for Rucci's Deli in White Plains and he said the manager, JoAnne offered to be yet another Toy Drive location. Again, I was so touched and saw the Power of Coummunity.
As it got closer to the event and after doing an unofficial count of toys, it seemed like we were lowest on gifts for teenagers. I was just about to start panicking when Deanna Gerhart called me to say that one of the Our Place board members, Cyndi Modlyn has been collecting toys and gift cards for the event she should have nearly 50 toys and $500 in gift cards that would more than cover all the teenagers. She is came in and saved the day!
There have also been toys coming in from people who simply heard about it and sent toys with my wonderful gift wrapping helpers, Deanna Gerhart, Alyssa Gerhart, Linda Heimpel and Carla Dothard.
There are so many other people that helped with picking up the Toy Drive donation boxes, such as my wonderful son, Justin Lambert and my very supportive husband, Mike Mildenstein as well as help with last minute details, including Liz Benitez and David Strickland again!
In order to pull this off, I reached out to about 10 co-workers and family members asking them to be "Elves" on December 17th. The Elves will include my giving, patient son, Justin Lambert, husband Mike Mildenstein, stepson Chad Mildenstein, daughter-in-law Liz Mildenstein, friends and co-workers, Donnie Wilburn, Melissa Banchs, Don DeHanas, David Strickland and of course, the wonderful Mike M. as Santa!

I think it's safe to say, I have received over 250 new, unwrapped toys and about $600 in gift cards. This idea, which is all it was has shown me not only what can be accomplished with a little work and a lot of help but mostly, the true meaning of Christmas. The outpouring of support, offers, donations and kindness has been an amazing, eye opening experience. I am forever grateful to everyone, there is just no way that I could express that in words. If anyone says there is no such thing as Santa, they have not looked inside themselves. This community has proven he is real in all of us!
I'm very grateful to the following for their help and to so many others that I don't have names for but made such a difference to the families of Our Place Waldorf this year!!! My family, Justin Lambert (son), Mike Mildenstein (husband) and Liz Mildenstein (daughter-in-law)
DeHanas Real Estate Services
McKendree Moving & Storage
Waldorf Signs
Avant Garde
FASTSIGNS of Waldorf
Avian, LLC
Rucci's Deli
And my wonderful neighbors in Greenmont